Find our Lovely Skin Brushes here:



See our Sublime Webstore here:
Remember, we offer a 100% customer satisfaction guarantee.
A SUMMARY:  DAILY PORTABLE SKIN BRUSH WITH CONVENIENT POUCH
WAS FEATURED IN GLAMOUR MAGAZINE!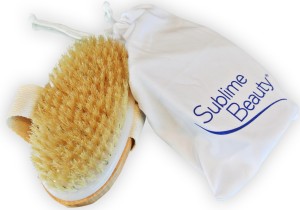 Our clients asked us for smaller, convenient brush they could also take on travels, and we delivered!  Not only is our brush great for every day at home, you can continue to Skin Brush on a business trip, a vacation, cruise or weekend away!  It easily tucks into any bag (unlike the large brush with long handle). Natural bristles on polished wooden frame slips into a handy little travel pouch!  A soft handle allows a good grip but doesn't take any room in your bags!  Keep your immune system healthy when you travel!
FACE BRUSHES (2) IN POUCH!
UPGRADED TO SOFTER HORSEHAIR

Two perfect brushes for the face – natural bristles and wooden handle, presented in the Sublime Beauty pouch.  You can either use both brushes for Dry Brushing (alternate) OR you can designate one for wet cleansing – your choice!
We have a great brochure about HOW to Brush the Face on this website and we send the url along in your packet.  It is also found on our SublimeBeautyShop product page!
ORIGINAL SUBLIME BEAUTY® SKIN BRUSH

The Ultimate Brush!  This sturdy brush has a long wooden handle and natural bristles. It has a dual head which includes rubber nubs for cellulite management or massage. (Sublime Beauty® offers the organic  Cellulite Whisperer® Gel and Lotion to help diminish cellulite and smooth skin, so this is a tool that could hold a dual function.) The how to brochure is sent after purchase, but it is also on this website for your download or review!
When you receive your brush, run your thumb over the brush to remove any loose natural bristles – this is normal – and you will be ready to brush your skin!
Featured in numerous magazines, beauty blog posts and interviews over the years!
PERFECT AFTER SKIN BRUSHING:  ALL NATURAL CHEMICAL-FREE DAILY BODY OIL!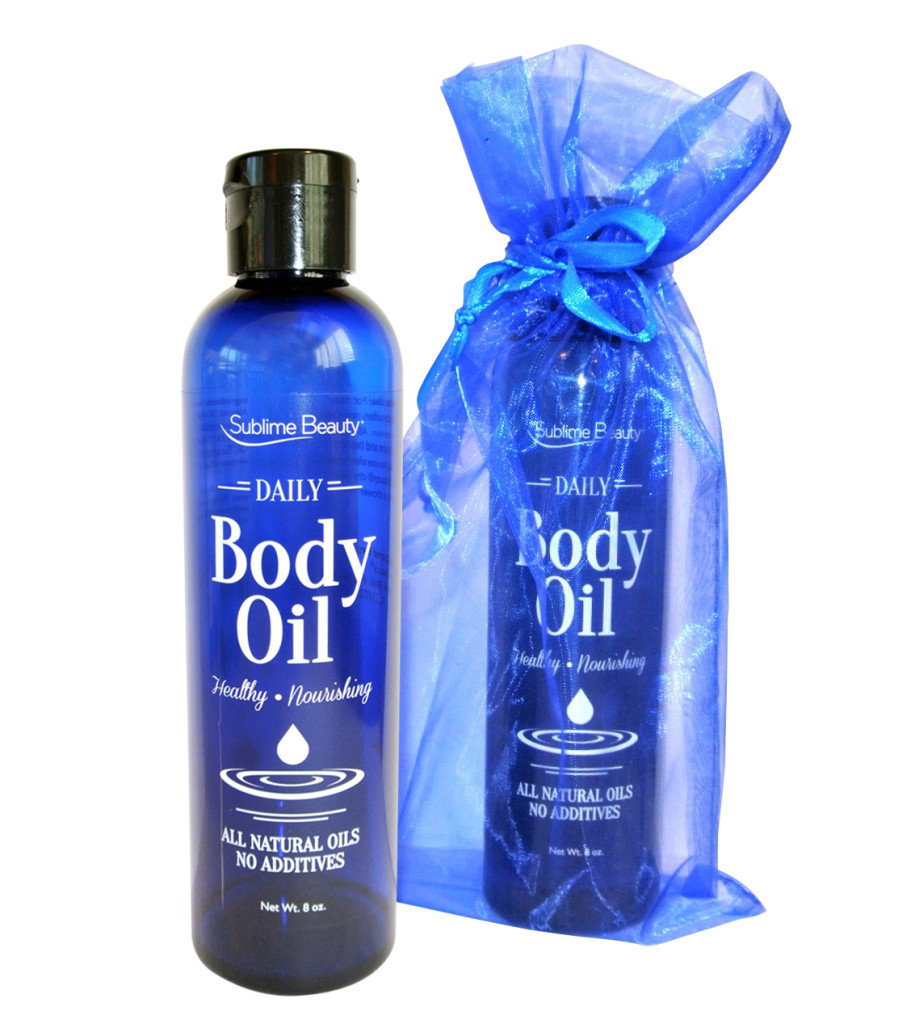 Many Skin Brushers are especially careful about what they place on their skin, and are more aware of the bad effects to well-being from chemicals and additives. We developed the proprietary Daily Body Oil with a chemist, choosing each oil carefully. It is a blend of 5 pure oils that is perfect for skin nourishment after brushing!
Each oil brings great qualities, from anti-inflammatory to important nutrients, vitamins and minerals. The five oils are: Sweet Almond Oil, Sesame Oil, Aloe, Jojoba and Argan Oil.   We offer an informative brochure about each oil here.